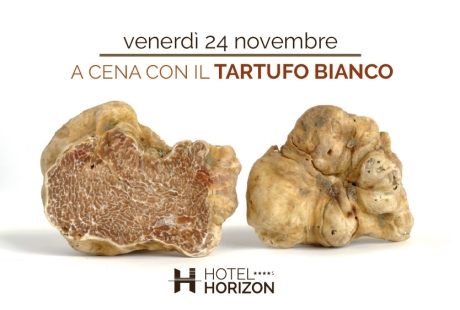 November 24, 2023 join us for a magical evening where you can delight your palate with the delicious WHITE TRUFFLE, known for its unmistakable aroma and extraordinary flavour. You will be guided by our expert Chefs who will prepare exceptional dishes with truffles as the main ingredient.
During dinner, you will have the opportunity to:
Savor freshly prepared gourmet dishes with fresh white truffles.
Taste selected delicacies paired with wines.
Share your passion for food with other gastronomy lovers.
DISCOVER THE MENU
Rabbit galantine with porcini mushrooms on a salad of fennel with ice and truffle
Cauliflower cream soup with truffle, tempura chicken, aromatic bread and new oil
Polenta millefeuille with Cinta Senese ragout and truffle ricotta quenelle
Cappellacci with burrata heart sautéed in butter, hazelnut and truffle
Duck breast cooked at low temperature with smoked salt, spring onions in cooked wine and truffle flakes
Tasting of "Razza Marchigiana" ribeye
Water
DOC wine from the Marche region
Coffee'
€85
This dinner is a true feast for the senses and represents a unique opportunity to experience the white truffle in all its glory.
Places are limited, so reserve your place now to guarantee this amazing experience.
info 0734873864
info@hotelhorizon.it